Pupil comes 2nd place in Ealing Science Fair competition
The winners from the Primary Science Fair represented the Academy at the Ealing Science Fair at Ellen Wilkinson School on Wednesday 21st June. The seven excited pupils presented their investigations to the judges at the event. The Year 5s and their projects included:
Hargunn – Fact or Friction
Ibraheem – Avoiding Pepper
Christian - Acids and Alkalines
Emelia - Fruit Battery
Laci - Bouncy Eggs
Danny - Floating Salt Ice
Sha'Quaya - Magic Snow Crystals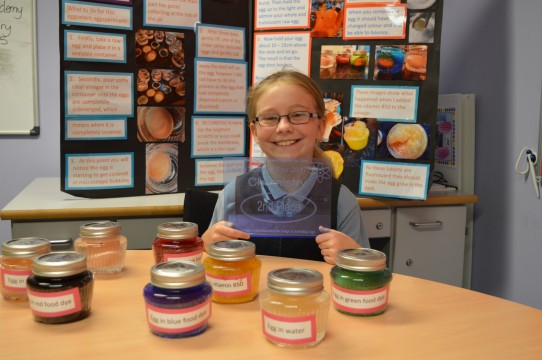 Laci and her Bouncy Eggs project won 2nd place in the Chemistry category. She chose her project as she was intrigued to see if she could make a raw egg bounce. It took her 3 weeks to complete the project. Laci commented on her success, "I was very shocked to come second, there were so many children from other schools there. I feel so pleased and very proud of myself. It was a fantastic experience, the judges were amazing. One of the judges was the man that created the MRI scan, a woman that tracks the spread of diseases, so I was very, very nervous at first!" Congratulations to Laci and all who won a place at the Ealing Science Fair.